Fish Common Names Failing Seafood Shoppers
Did you know that farmed Atlantic salmon can be labelled simply as "salmon"? Or that a seafood package labelled as "rockfish" could be more than 100 possible species (some of which could be endangered)? Crazy, right? Truth is, when it comes to buying seafood there's a good chance you don't know what you're getting.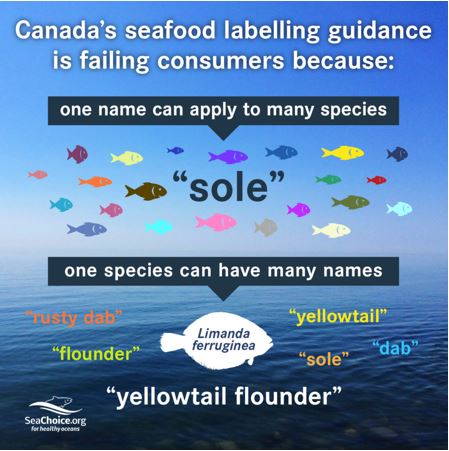 Canada's seafood labelling laws require product labels to include a common name, but a common name doesn't tell you which species you're eating. Many different common names can be used for the same species and many different species can be called the same common name. Improved seafood labelling is important not just for consumer protection, but because different species have different sustainability and health implications.
This Summer SeaChoice released the report, Fish List Wish List: A case for updating the Canadian government's guidance for common names on seafood. It examines the most problematic and misleading common names in the marketplace, as well as provides recommendations for better name clarity. It found the common names 'rockfish', 'sole', 'shrimp', 'shark', among others, are highly problematic due to the number of species they apply to. You can read the report here.
The universal solution? One fish, one name. This could be achieved by requiring a scientific name on seafood product labels. Moreover, Canada needs to step up its game on seafood labelling regulations across the board by matching what is required minimum practice in other jurisdictions such as the EU. We need comprehensive seafood labelling regulations that include scientific name, geographic origin (where it was caught), the production method (farmed or wild) and how it was farmed or caught. Canadians deserve to know more about their seafood.
Initiatives: