What Will Sea Level Rise Mean in Your Community?
Living Oceans kicked off its Sea Level Rise project this fall, running community workshops in partnership with the Islands Trust on Galiano, Salt Spring, Pender and Lasqueti Islands. Interest in the various adaptation strategies for dealing with SLR is high within the Trust area, where policy requires solutions that work with nature to the greatest extent possible.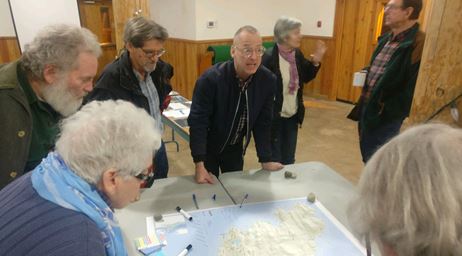 Our workshops begin with a presentation explaining the mechanisms at play that are beginning to accelerate the rate of SLR and outlining the main adaptation strategies available. Participants are then asked to identify areas where they know already that rising water levels pose or will pose a problem; and also to identify key community assets that may be placed at risk. The workshop introduces participants to a series of online tools they can use to carry on with community dialogue, risk assessment and development of planning options prior to taking steps to secure lands and community infrastructure.
One of the problems common to most B.C. communities is that they do not have access to topographical data that is sufficiently finely resolved to be able to map the projected water levels. The Province asks communities to plan for a .5-meter increase in sea level by 2050, a 1-meter increase by 2100 and 2 meters by 2200, but establishing where the new water line will be can be challenging without precise topographical data. Our online resource documents lead interested communities to funding resources and practitioners to take this next step, to support certainty in any regulatory process to follow.
Our goal was to begin engaging citizens in planning for SLR and to describe the processes that should be followed to ensure decisions are made in a timely way, and with a view to minimizing both economic and environmental costs. We will now look for funding to be able to follow up with these communities, to support them as needed to keep the process moving along.
Workshops attracted people from a wide range of backgrounds and with extremely varied expectations and concerns. There was some pushback about 'fear-mongering' from those who simply don't believe that sea levels are rising, or at least that they are doing so on a time scale that requires action today. There is clear evidence that sea levels in B.C. have been rising in most communities and our presentation includes that data; but some people still resist believing it requires action.
To those people we say, consider the life expectancy of important community infrastructure like ferry docks, wharves and warehouses; or of commercial oceanfront buildings like hotels and marinas. If SLR adaptation is to be achieved at least cost and with greatest efficiency, it will be done by incorporating planning for it in the planning horizon for major repair, renovation or replacement of those kinds of infrastructure.
The Provincial recommendation is to plan, first of all, for a .5 meter rise in sea level by 2050. This means we have a 30-year window in which to assess and plan for the relocation of key waterfront assets as they become due for major repairs or replacement. That really requires us to start now, by ensuring that the impacted areas are identified and nothing built in them in future that would increase exposure to SLR; as well as working with senior levels of government, B.C. Ferries and other stakeholders to ensure that plans are in place to safeguard community assets.
Many issues were raised by workshop participants, mostly centered around understanding the guidelines for building setbacks. Setbacks used to be expressed as the greater of a horizontally-measured 15 meters and a vertically-measured 1.5 meters from the 'natural boundary' or visible high water line. The Province's 2018 guidelines stress the need for competent engineering assessment of the "Natural Boundary of the sea at Year 2100" and the "Year 2100 Flood Construction Level", and recommend a setback of at least 15 meters from the greater of the two. This assessment incorporates the anticipated 1 meter rise in sea level and adjusts for changes in the level of the land, storm surge, wave effect and site-specific issues of exposure and erosion. The provincial guidelines also stress the need to review setbacks at least every ten years, as new scientific understanding of the rate of sea level rise is published.
Coastal communities face varying degrees of risk, depending on shoreline profiles and what resources are located at the ocean: land interface. We believe it's in everyone's best interest that the risk be assessed now and that planning should begin for solutions that don't leave citizens facing enormous tax bills for emergency or reactive expenses…or under water!
Project resources can be found on our website. This project is part of the Ecology Action Centre's ECoAS project and is funded in part by a financial contribution from the Department of Fisheries and Oceans. In B.C., the project has also been supported by the Islands Trust and the Real Estate Foundation of B.C.
Initiatives: