Transition Plan Consultations: False Start
Fisheries and Oceans Canada (DFO) was tasked by the Minister with undertaking consultations on the content of the Transition Plan that will guide the removal of salmon farms from B.C. waters. Living Oceans attended a consultation on September 1. Several First Nations consultations had taken place prior to this. The combined outrage of those consulted on the plan resulted in the whole procedure being stopped in its tracks by the Minister.
Why the outrage? The Plan that is supposed to 'transition salmon farms from B.C. waters by 2025' had morphed under DFO's hand into a plan to regulate them a bit better and leave them in the water until "some time down the road". (Direct quote from consultation facilitator; 2025 had somehow become meaningless.) The industry should be allowed time to experiment with "promising technologies" that might "reduce interactions" with wild salmon.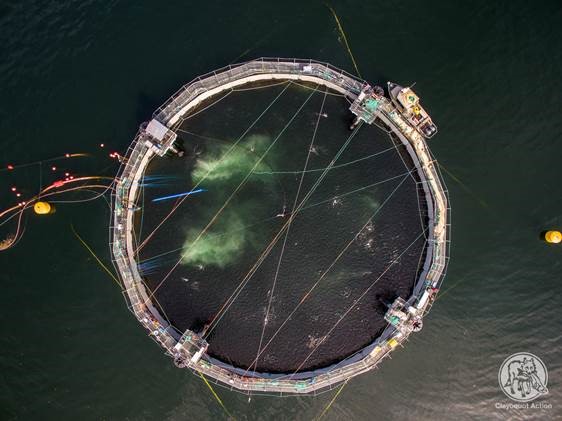 Semi-closed containment system trailed by Cermaq in Clayoquot Sound. Credit: Clayoquot Action.
Meanwhile, the only 'promising technologies' we've seen implemented were the floating bag trialed by Cermaq in Clayoquot Sound (which killed its stocked fish) and the addition of "tarps" to net pens, heralded by Grieg Seafood as "cutting edge technology" in the media. Both systems continue to spew pathogens, pollutants and parasites directly into wild salmon habitat.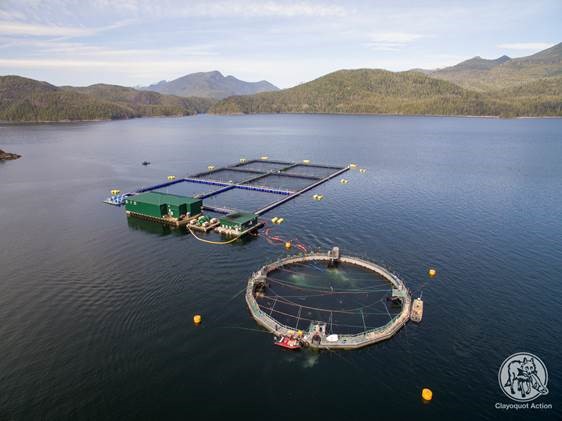 Semi-closed containment system trailed by Cermaq in Clayoquot Sound. Credit:Clayoquot Action.
While this may sound purely evil in view of the dire condition of our salmon stocks, it arises naturally within the alternate universe in which DFO's aquaculture management has been operating for 30 years—a universe in which salmon farms have no adverse impact on wild salmon; the sea lice come from somewhere else and are a natural phenomenon; and the viral and bacterial disease wasn't either introduced or amplified on salmon farms but is also, alas, a natural phenomenon that's been really hard on wild fish. In this universe, all of this proves that farmed fish are essential to feed the world.
In short, the course on which DFO was set would compound its decades-old failure to adopt precautionary, ecosystem-based management of fisheries by perpetuating the salmon farming industry until wild salmon and the ecosystems they support are dead and gone. It is hardly conceivable that anyone charged with regulating a public resource would do such a thing. It can only be explained by institutionalized denial of the facts exposed by scientists working in the public interest. And in that regard, DFO excels.
As we go to press, we have no idea what will come of the Minister's intervention in the consultation process. We have written to her to assure her that there are no promising technologies on the global horizon that will prevent the harm that industrial open net-pen salmon farming does to wild Pacific salmon, other than land-based, closed containment. We have asked that the public survey briefly opened by DFO be completely redrafted to eliminate the underlying assumption of business as usual with some regulatory tweaks and permit Canadians to provide their views on the desired end-points of the transition, as well as the route to getting there.
In our view, the Transition Plan should focus on supporting alternate economic development opportunities for the First Nations and coastal communities that will be on the front lines of transition. It should provide retraining and interim support for workers. And it should offer incentives to industry to upgrade their land-based hatcheries to full grow-out operations. Most importantly of all, it should give industry a firm date at which all net-pen salmon farms will be removed from B.C. waters, whether they accept the incentives to begin land-based operations or not.
Initiatives: