Clear the Coast 2020
There is some hope that our efforts to remove marine plastics from sensitive foreshore habitats will get a boost this year from a government program to recover abandoned, lost or discarded fishing gear—now known as ALDFG. Yes, it's a thing: there's so much of it now that it has its own acronym!
We're anxiously awaiting word on our expression of interest, but think we've got the evidence!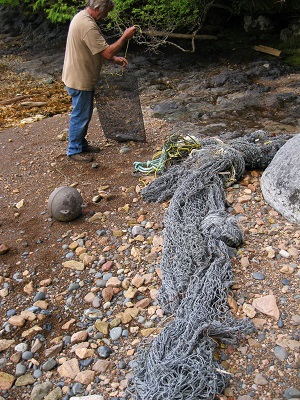 Each year, we recover nets, rope, floats, totes and a wide variety of containers that have likely come from fishing vessels, mixed in with the post-consumer type of waste that might be found on any beach. This year, we're hoping to expand the potential for plastics recycling by working with local governments and colleagues in Haida Gwaii, to create some economy of scale for plastics that aren't currently accepted into the extended producer responsibility program in B.C.
If you're thinking of volunteering this year, check our website in May for details: https://livingoceans.org/initiatives/clear-the-coast.
Initiatives: