Salmon Farm Removals: Progress Report
At Living Oceans, we're living the process of salmon farm removal daily. For readers who are following at a more sane distance, we'll begin with a short recap of the progress to date:
In the Broughton Archipelago, near Port Hardy and Port McNeill, First Nations are leading the removal process. As at the end of 2022, 14 farms will have been closed; 5 continue to operate into 2023 pending ongoing discussions concerning their future. In the south-eastern part of the region, a further 3 farms operated by Grieg Seafood (which is not subscribed to the Broughton Agreement) continue to operate with the consent of only one of the Nations who share that territory. A fourth farm has been proposed but not yet approved for the same region.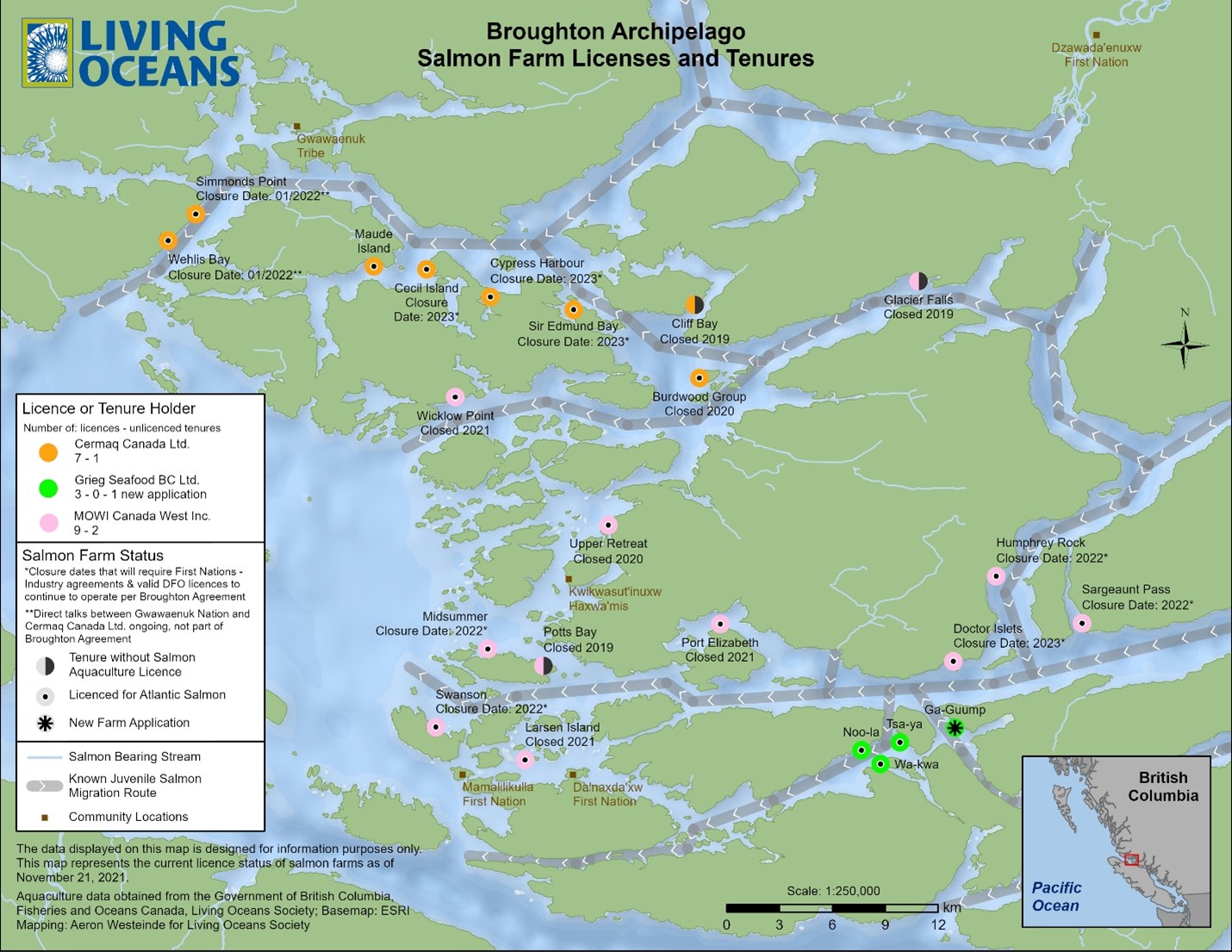 In the Discovery Islands, near Campbell River, 16 Atlantic salmon farms previously closed by order of former Fisheries Minister Jordan in December of 2020 remain closed, while two smaller farms growing Pacific salmon species were allowed to continue to operate. Fisheries Minister Murray is currently consulting with industry and the Nations concerning the ultimate fate of those farms, in accordance with a Federal Court ruling. A decision on those farms is anticipated early next year.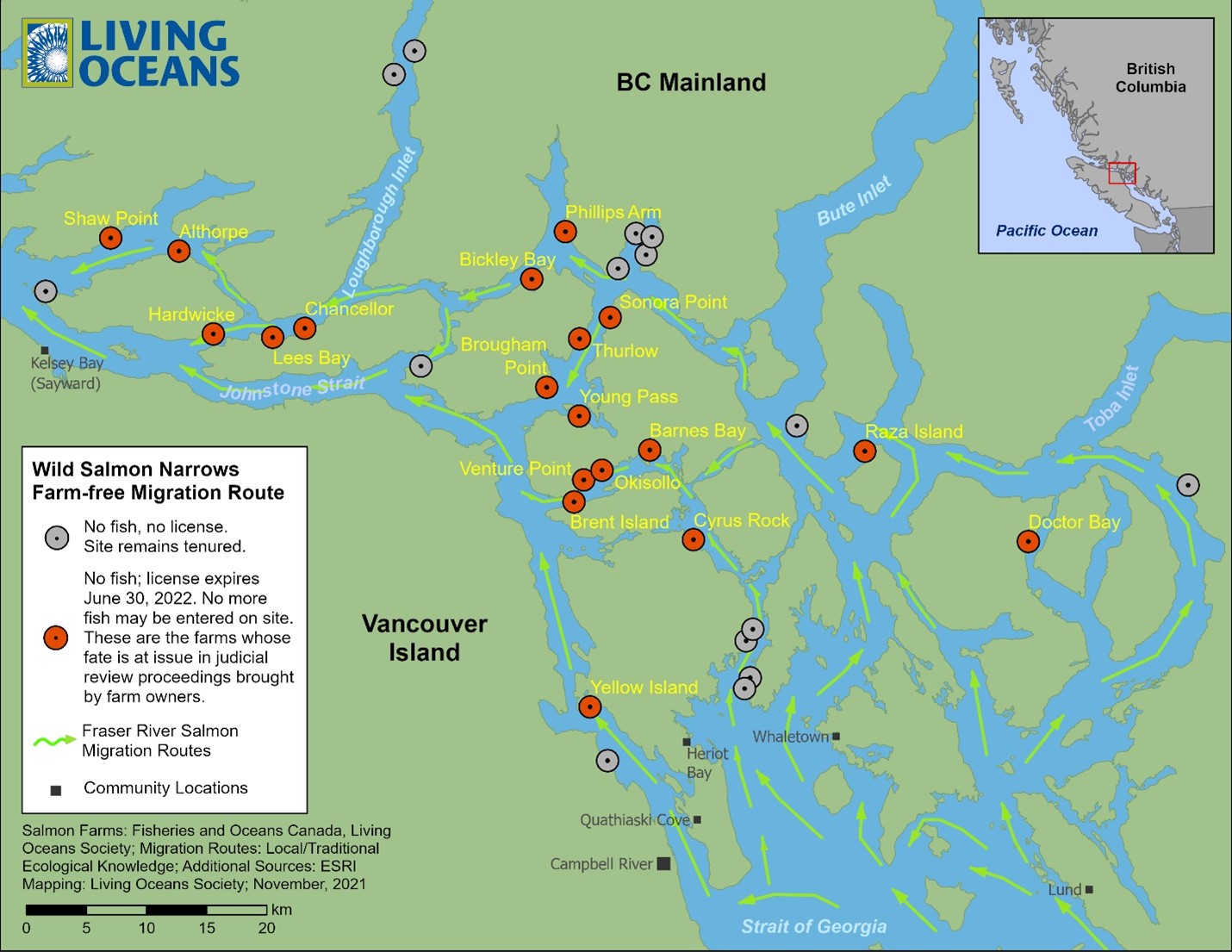 All of the other farms on the coast were granted 2-year licences in June of this year, to provide time to create the Transition Plan that will fulfill the government's promise to "work with the Province and First Nations to create a plan to transition salmon farms from B.C. waters by 2025".
Wild salmon are responding
Early indications are that the closures to date have had positive impacts on wild salmon survival. Pink salmon, which return on a 2-year cycle, rebounded in one Broughton river (the Ahta, or Hada) from an estimated low of about 900 fish to over 11,000 this year, after their migration route was cleared by some of the earliest Broughton Agreement closures. This performance recalls to mind the 2003 experimental fallowing of 4 Broughton farms, which resulted in the pink populations of the region rebounding from what was then a shocking low of 77,000 fish to 978,000. These numbers remain a far cry from the 3-4 million fish that the region was producing before salmon farming expanded into the Broughton, but they do signal a clear capacity to rebuild given half the chance.
Sockeye salmon returns are indicative of the impacts of farms as well: to the north and south of B.C.'S salmon farms, sockeye returned in record numbers this year. Bristol Bay, Alaska saw the highest returns ever on record. The Columbia River predictions were exceeded by 60%, with most of those fish being Okanagan native stocks. But on the west coast of Vancouver Island, only Barkley Sound (where there are no salmon farms) saw a doubling of expected returns. The Fraser River sockeye, which were exposed to active farms in the Discovery Islands and beyond as they migrated out to sea, are returning at little more than half of their predicted numbers.
Next year's Fraser sockeye returns will be the first to show what impact the closure of Discovery Islands salmon farms has had. The smolts sampled in 2021 as they passed through that area were remarkably free of lice and were not exposed to elevated levels of bacteria and viruses known to occur around those farms. They were, however, exposed to farms along the northerly portion of their migration through Johnstone Strait and Queen Charlotte Sound. Only time will tell how many survived.
Initiatives: