A huge success: Clear the Coast wraps up for 2022
Author: Karen Wristen, Executive Director


Photo: The 2022 Clear the Coast crew. (Left to right: Leo Routledge, Charles Lam, Eric Grantner, Lee Sichello, Jasper Shore, Karen Wristen, David Jensen and West Coast Helicopters Pilot Mike Aldersey)
Living Oceans' volunteer crews managed to remove an estimated ten tonnes of plastic debris from northern Vancouver Island beaches this year, in two expeditions in June and September. The bulk of that debris came from Cox Island, the nearest of the Scott Islands and part of the marine National Wildlife Area established primarily to protect seabird colonies. We also worked on the Laura Creek area of the North Coast Trail, as well as our 'usual' beaches at Lowrie Bay, Sea Otter Cove and San Josef Bay.
The June expedition was a lightening-fast 'glamping trip': sharing helicopter time with the Cape Scott park operator, we dropped in a crew of six and all our supplies and set to work immediately. With only a couple of kilometers of hiking involved, in two days we had the beach scoured and lifts ready for the helicopter. Each of us hooked up a lift and then headed back to camp to be collected at the end of the third day. Laura Creek was one of the worst-impacted stretches of the North Coast Trail and one that we hadn't cleared since 2019—we found it covered in cargo spilled from the Zim Kingston container ship, as well as the usual fishing and aquaculture debris.
We had planned our usual two-week boat trip into Sea Otter Cove for August, but had to cancel when our supply/transport boat blew its engine cooling-water pump two days out from Vancouver. We lost two weeks to repairs and returning home. All was not lost, however…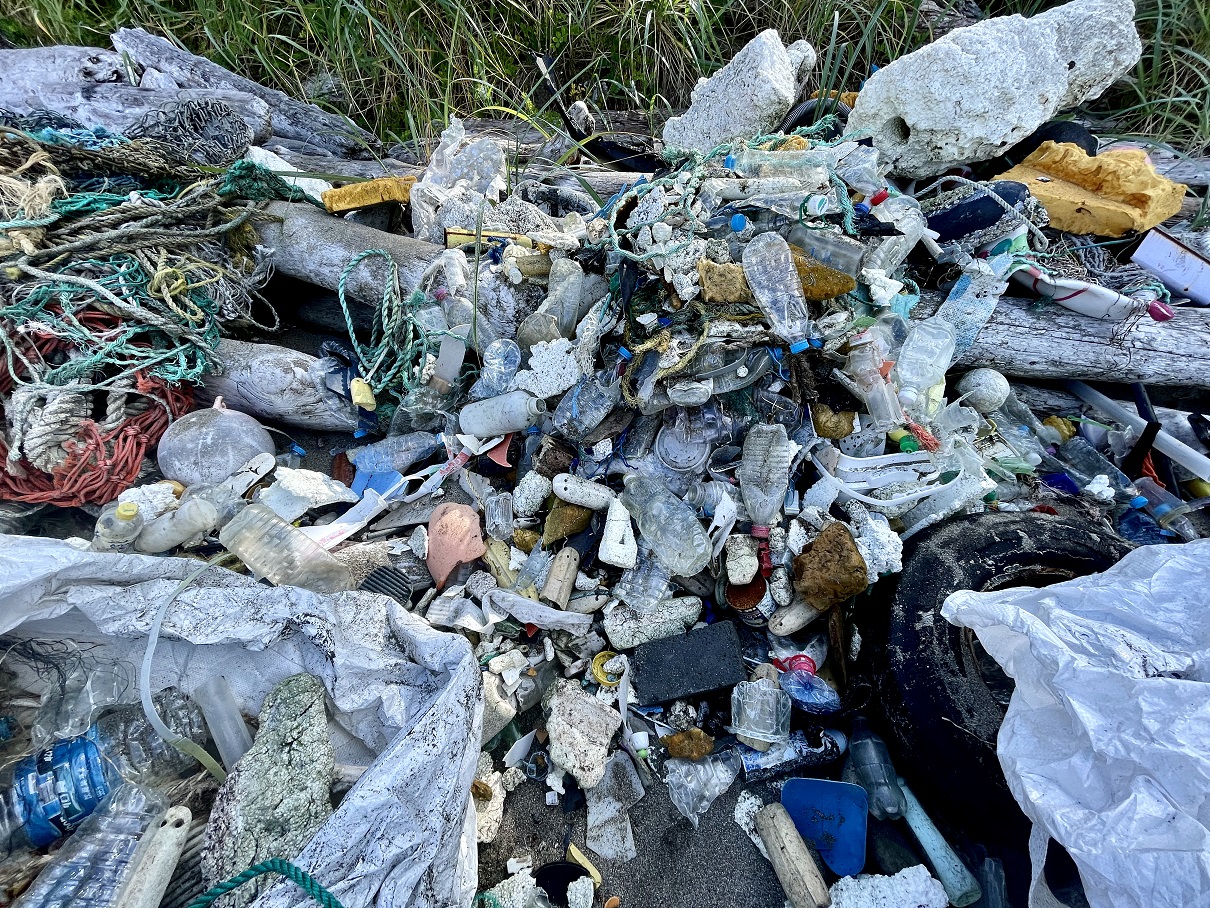 Photo: A substantial debris pile collected by volunteers
Our newest partner in plastic cleanup, David Jensen, had planned to be out on his paddleboard for most of the summer, joining us when we arrived and staying on for the heli-lifts. As an experienced outdoorsman, used to working alone and living off the land, he was not to be deterred by the absence of the entire crew and supply boat. He just carried on collecting and piling debris, confident that we'd figure something out. David single-handedly collected most of the total tonnage we brought in this year; and he bagged and prepared lifts to the extent he could with the supplies he carried on his paddleboard. In total, he prepared or identified 13 caches of debris for our crew to tackle when they arrived.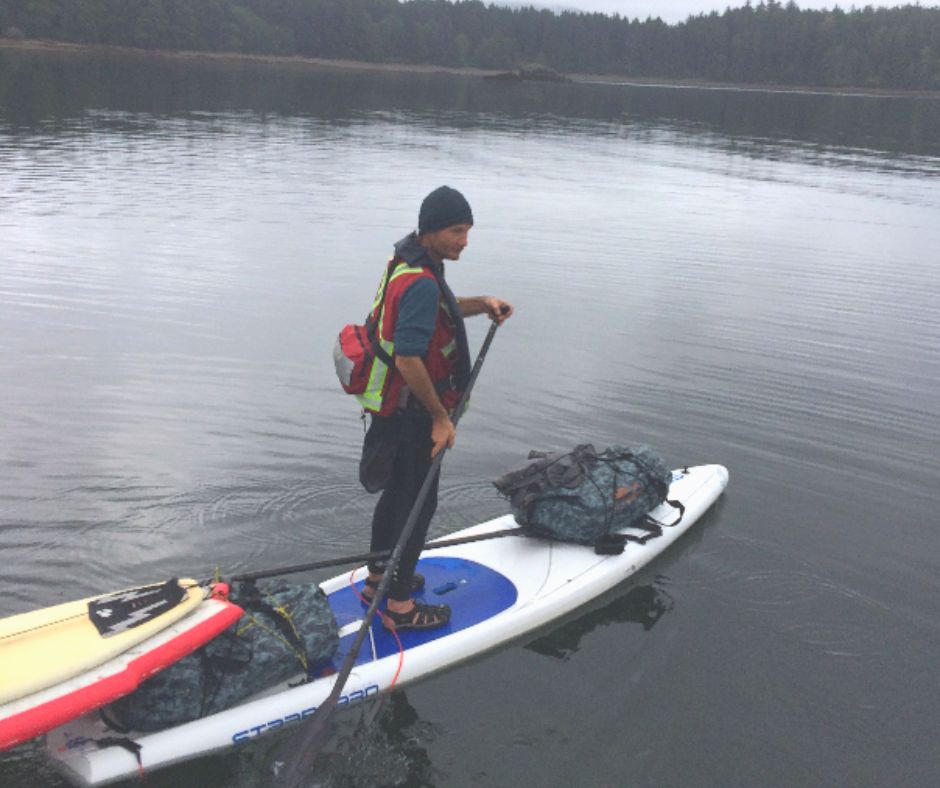 Photo: Volunteer David Jensen
David has recently started his own organization, aptly named Lonepaddle Conservationists Society and if you'd like to donate in appreciation of his awesome feat, you can find his website at www.lonepaddle.org.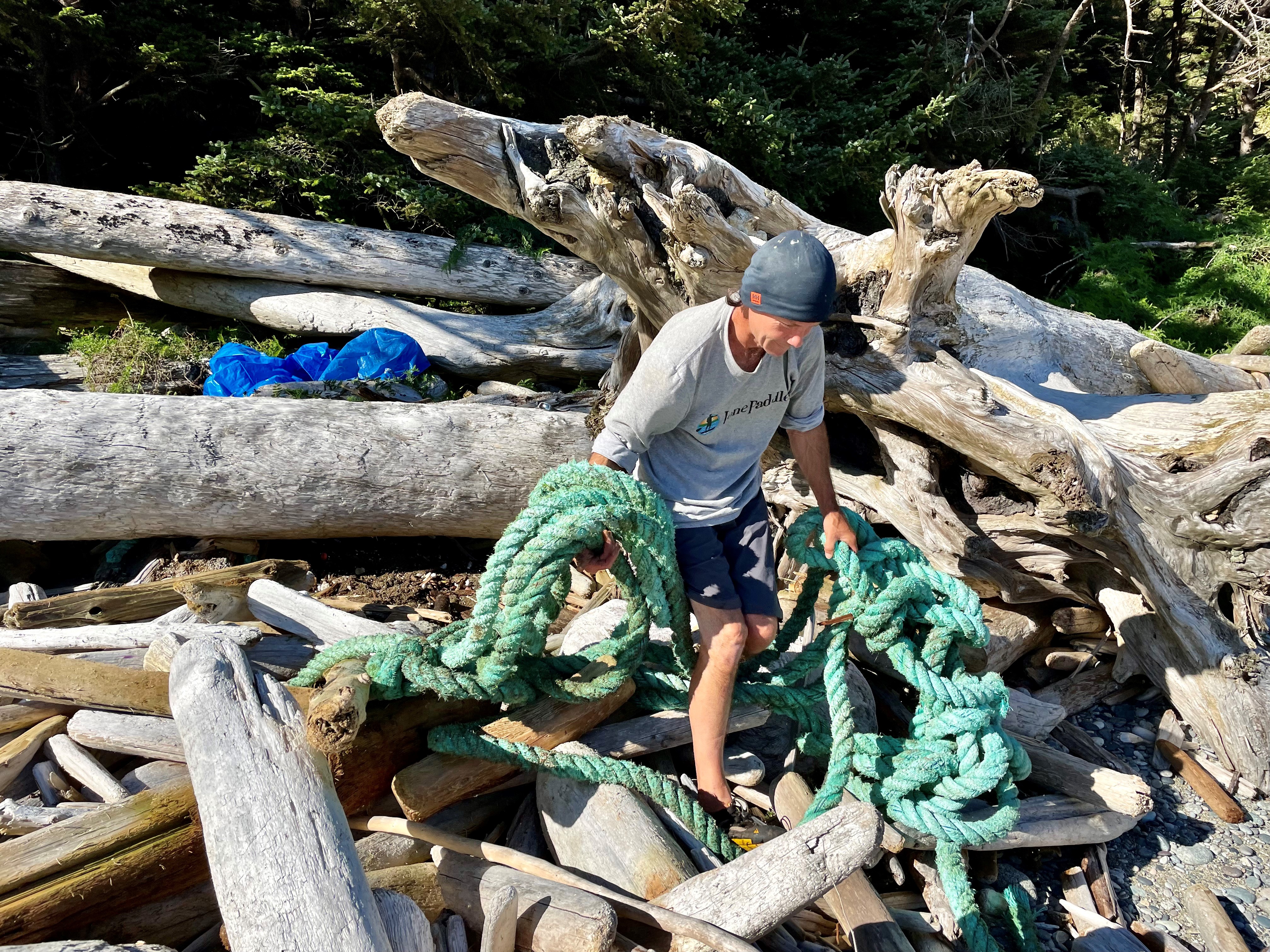 Photo: Ropes are a common form of marine debris
With the generous support of the Shaw Family Foundation and the Canadian Wildlife Service, we were able to secure two days of helicopter support which we put to maximum good use! On September 17, our crew drove out to Cape Scott Provincial Park to meet a helicopter that took us directly to Cox Island, where two crews of three tackled two of the worst beaches. With an expensive helicopter waiting, and weather unlikely to remain fair for long, we worked at top speed to clear beaches so exposed that much of the debris was well above the usual high-tide line.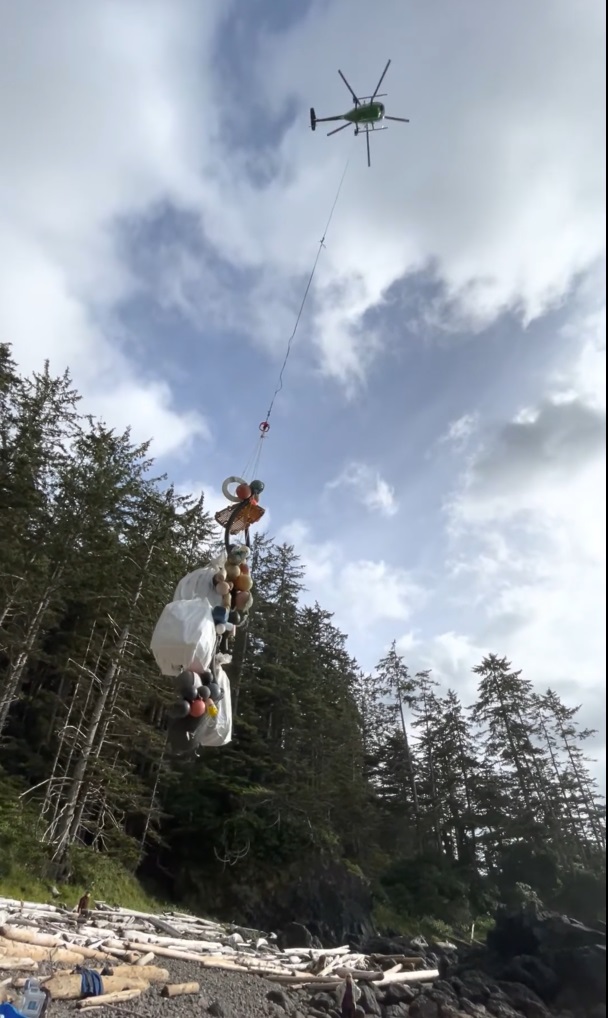 Our first full load was ready by about 2pm and from then until 6pm, we kept the helicopter busy moving debris back to the Park's parking lot for transfer to a truck. Six very tired workers were then dropped into our favourite campsite at Sea Otter Cove to prepare camp and dine by firelight.
It was a short and subdued campfire for sure: everyone was needing sleep to prepare for the next day's work, lifting David's 13 caches! But the night sky was so compelling, it was hard to leave the comfort of a reclaimed tailgate cover (courtesy of the Zim Kingston spill, it made a surprisingly comfortable fireside sit-upon), so a certain amount of star-gazing and story-telling did take place before a night unfortunately punctuated by frequently-distressed geese. We theorized a wolf was on the prowl.
West Coast Helicopters' Mike Aldersey is a storied pilot in these regions: he can fly a longline like nobody else. Let's just say we gave him lots of opportunity to show us his stuff the next day! Between repositioning crews to the various lift sites, he picked up some prepared lifts on his own while we worked to bag and string up all manner of debris from tiny plastic particles to broken boats and enormous tires. David's agility on the paddleboard meant he'd gotten into places we could never have reached in our boats, but the helicopter could either land, or hover low, to get the crew in there to clean up.
The last little pocket beach we tackled yielded nearly a tonne by itself, including two huge hawsers (4" diameter tow ropes) and innumerable bundles of smaller rope that might have refloated to entangle whales, sea lions or seals. There were so many fishing floats that we lost count; enormous pieces of foam; Zim Kingston debris and finally, a 100 foot long piece of PVC pipe.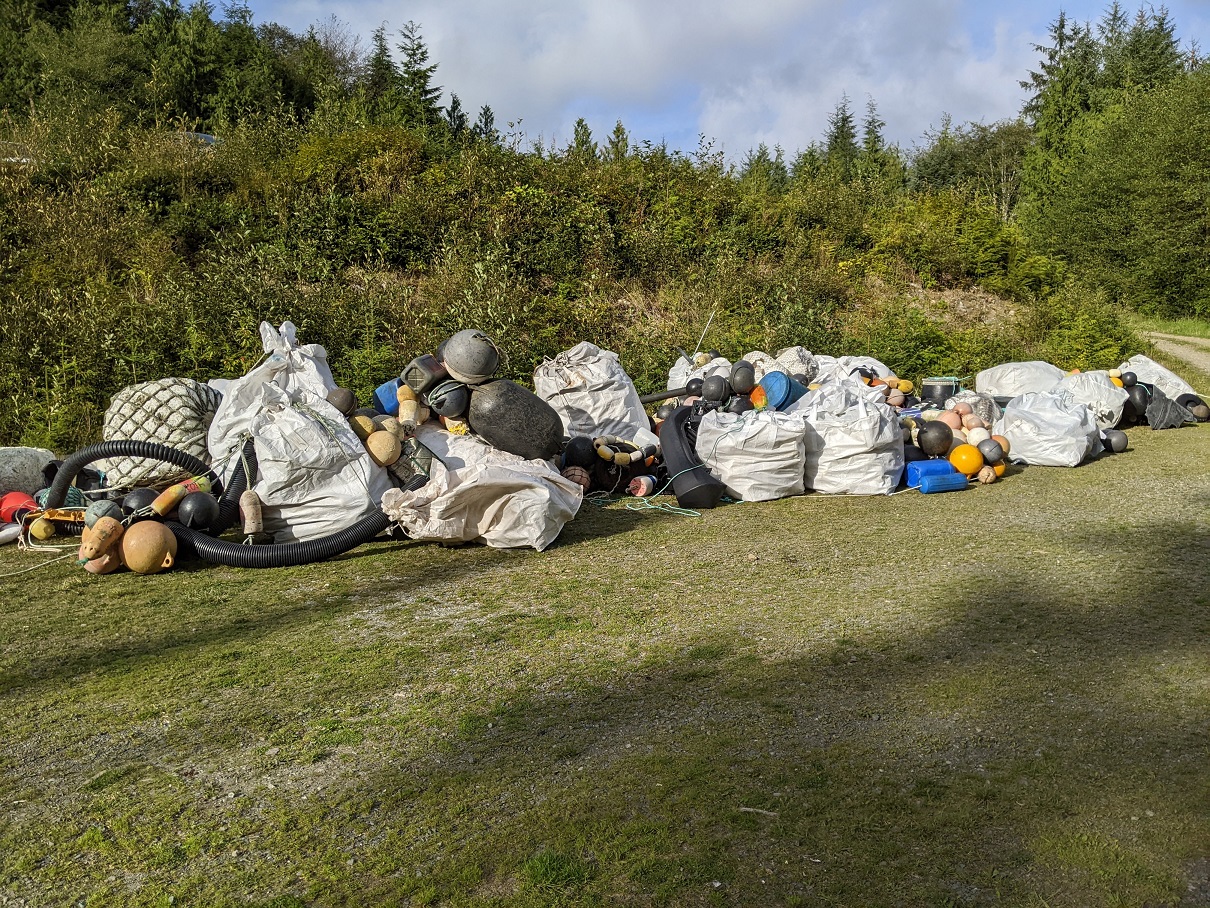 That beach alone confirmed our belief that the only way to really get ahead of the plastic debris circulating in the region is to do more of exactly what we did: hopscotching crews from one pocket to the next, cleaning and lifting as we go. There's no way to get these massive amounts of plastic out by water, given the treacherous rocky approaches to shore on the North Island. Doing the work by helicopter is really the only answer, albeit an expensive one.

We are deeply indebted to all of our supporters who've donated to Clear the Coast; and to B.C. Parks, the Shaw Family Foundation and the Canadian Wildlife Service of Environment and Climate Change Canada, all of whom provided support for this year's operation. We also thank Dan Carter of Port Hardy, whose trucking services have expanded to include bed and board for our volunteers as well as connections to whatever we need whenever we need it. Thanks to Lee Sichello for opening his home to volunteers as well as volunteering himself; to Christoff for supporting David and Jasper; and to our longtime volunteers Eric Grantner, Charles Lam and Leo Routledge for the hard work, high spirits and humour you bring to our expeditions.
Would you like to get involved with Clear the Coast?
Through Clear the Coast we work to protect sensitive foreshore, recovering habitat polluted by ocean plastics. Learn how you can volunteer with us and support our work.
Please note that, while we are extremely grateful for the work that David Jensen has done and confident in his expertise, we do NOT recommend that paddleboarders attempt to follow in his footsteps without contacting him first. The west coast of Vancouver Island has some of the most dangerous waters in the Province, with few safe landfalls, especially in these northern regions. A thorough understanding of the winds, tides, currents and perils of landing is required; and fresh water supplies can be limited to non-existent.
Initiatives: