Volunteers Helped Clear the Coast this June
Author: Karen Wristen, Executive Director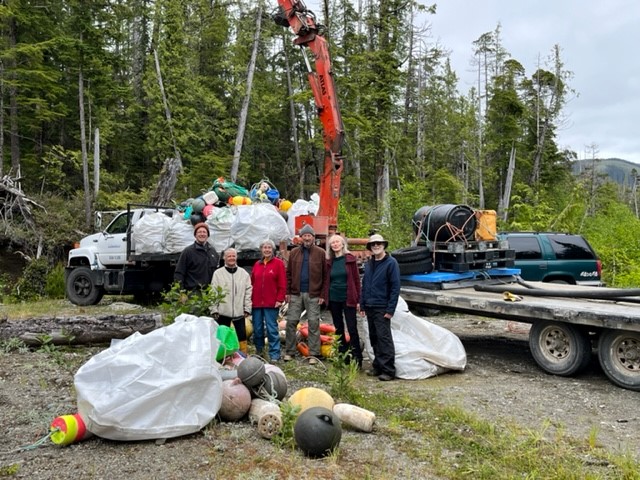 The June Clear the Coast team, showing off the fruits of their labour!
We got off to an early start this year, with some veteran volunteers joining us for a quick June cleanup on the North Coast Trail at Laura Creek. This stunning beach is tucked into the wilds of Cape Scott Provincial Park along the northern coast of Vancouver Island. Sharing helicopter time with the Park Operator, we were able to fly in from a site well out on the logging roads, close to Laura Creek.In a few short hops, our crew of six and all our gear was deposited…in a sea of mud.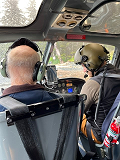 Actually, big thanks to Mike Aldersey of West Coast Helicopters, who effected the gear drop in the woods close to the campsite—it would have been a slog carrying it up the steep, cobble beach! But mud was our constant companion on this trip, even though we had relatively little actual rain. Much of the north Island is like a big sponge, holding all that spring moisture in the soil.
Taking off with Mike Aldersey!
With three days of solid work, we cleared a little over a kilometer of foreshore, removing about 37 cubic metres of plastic debris. A good portion of that was the usual fishing and aquaculture gear—floats, rope, nets and the barrels and carboys used to supply the farms. But this year, we also saw the contents of containers lost from two different container ships:the Zim Kingston, that caught fire off Victoria last October, losing 109 containers; and the ONE Apus, that dumped over 1800 containers off Hawai'i in 2020.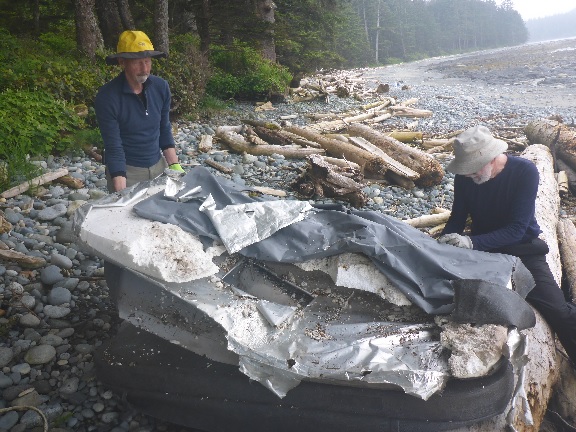 Eric and Bruce wrestling with the remains of a hot tub cover from the Zim Kingston spill.
It's unusual, since the end of the debris field from the 2011 Tohoku tsunami, to find consumer products on the shore. It has never before been the case that we find multiples of a consumer item in like-new condition. But this year, the proliferation of items like Brita filters, coolers and bicycle helmets clearly traced back to the contents of the two cargo ships.
If you're going to be out on the west coast at all this summer, have a look at the Survey 123 field app. It's being used by our colleagues at Rugged Coast Research Society to track findings of container ship debris, as part of our joint effort to establish a better system of response to container ship spills. We testified earlier this year before the House of Commons Standing Committee on Fisheries and Oceans about the need for a standing force of trained, local responders and a policy that prioritizes protection of ocean life from plastic pollution. You can help us gather the data that will help prove that Canada needs to pull up its socks on the subject of container spill response!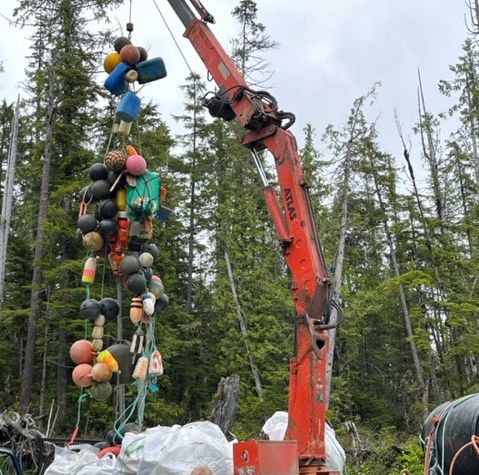 Just some of the discarded fishing gear and buoys the team removed
Our next Clear the Coast cleanup is scheduled for August 5-20, based in Sea Otter Cove. We are delighted to be inviting community members from Quatsino First Nation to join us, as we attempt landing on the Scott Islands once again. These islands play a central role in the Quatsino creation story and we look forward to learning about their cultural and historical importance to the Nation while we work to restore their habitat value.
Get involved with Clear the Coast
Through Clear the Coast we work to protect sensitive foreshore, recovering habitat polluted by ocean plastics. Learn how you can volunteer with us and support our work.
Initiatives: