Bluefin Tuna Receives the "Sustainable" MSC Blue Tick Despite Objections
The first Atlantic bluefin tuna fishery has been certified under the Marine Stewardship Council (MSC) eco-label.
Savvy seafood consumers have avoided bluefin tuna for years as overfishing of the highly valuable species plunged it into endangered status. Two decades of conservation efforts have aided in the slow rebuild of Atlantic stocks, but the species is still not considered by many to be within sustainable fishing limits yet. In fact, biomass is expected to deteriorate.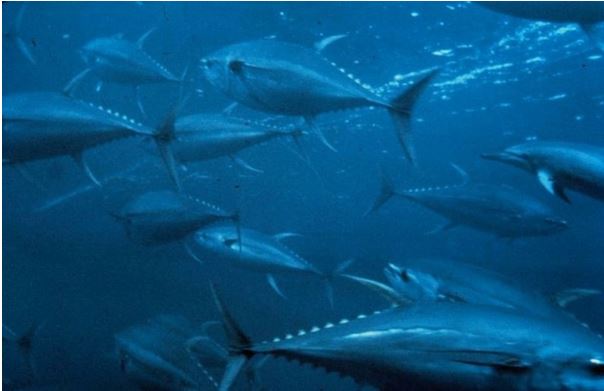 Conservation groups spent a significant amount of time and effort objecting to the certification to no avail, including MSC's founding partner and (usually) biggest supporter WWF, who stated, "Certify today and aim for sustainability in 2025. This does not reflect the rigorous certification standards we would expect to be applied when assessing one of the most valuable fish in the ocean, which was once harvested to the brink of extinction. MSC certification of bluefin tuna is an alarming signal that the result is driven by industry demand rather than scientific evidence of sustainability."
It's not the first controversial fishery that has been awarded the MSC logo. Globally, conservation groups are continuously busy objecting to fisheries associated with destructive practices such as endangered albatross bycatch or the fishing of species that live up to 140 years.
Aquaculture also gets its share of greenwashing as well. Most recently, Living Oceans and our SeaChoice partners needed to rebuke the misleading statement by industry that "every Mowi Canada West farm off B.C.'s coast is now certified by the Aquaculture Stewardship Council" because at least six of their interim farms have never been assessed against the ASC standard meaning environmental impacts (e.g. sea lice, chemical and antibiotic use, etc.) during large sections of the production cycle are simply ignored.
Civil society stakeholders, such as conservation and social non-government organisations and local communities, play a crucial role in helping to watchdog certifications and the industries they aim to certify. But many stakeholders are citing frustrations with the eco-certifications - particularly given the growing number of controversial certifications. SeaChoice summarized such stakeholder sentiment in a recent report that provided scheme holders with recommendations on how to improve their processes and engagement that, in turn, would increase stakeholder and consumer confidence in their eco-logos.
But we won't hold out breath. However, we will continue to call out the greenwash as needed. And we certainly don't recommend buying any MSC-certified bluefin next time you're feeling in the mood for sushi. B.C. albacore on the other hand – reach for those reusable chopsticks!
Initiatives: